Tranquil Retirement Group
Tranquil Waters is proudly owned and managed by the Tranquil Retirement Group, who have been operating for over 20 years in the retirement industry spanning two generations. They are based exclusively in the Redlands. So all decisions are made right here by committed people that you can talk to in person.
The Tranquil Retirement Group is currently developing a brand new exciting retirement village called Ormiston Rise within the leafy suburb of Ormiston.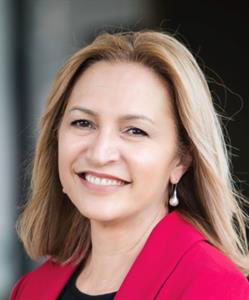 Cherie Montgomery
Retirement Village Manager
With nearly 20 years' experience in managing retirement villages in NZ and Australia, Cherie admits that she has never wanted to move to another industry. "When you work in an environment where residents live, you become part of their everyday lives."
Cherie enjoys the daily interaction of village life, especially having one on one time with residents. "I love hearing stories of earlier lives, children and travels, it's such a privilege".
The established village has beautifully maintained grounds, a lovely sea breeze and a range of modern villas to suit all preferences. It's a bonus that you can walk the waters edge just outside the gate and a range of shops and services at the end of the road.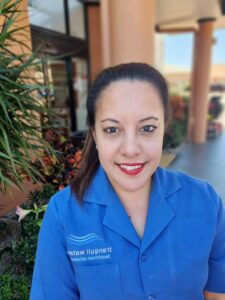 Lynda Mendoza
Retirement Living Consultant
With over 10 years experience in sales and customer service, Lynda is a passionate and personable consultant. Lynda has experienced firsthand what can be gained from making a positive lifestyle change. Originally from England, in 2012 Lynda embarked on a new journey to Australia and travelled extensively before moving to Brisbane.
 Genuine, positive and passionate about connecting with people, Lynda thrives on building real relationships. With her endless optimism and drive, she's the right choice for anyone interested in retirement living. "When I first joined the Tranquil Waters Retirement Village, I felt an instant connection to the vibrant community & residents living here. It's a real privilege to be part of someone's first steps in discovering a new beginning for themselves. It's so uplifting to see people move in, embrace their new surroundings and form everlasting friendships".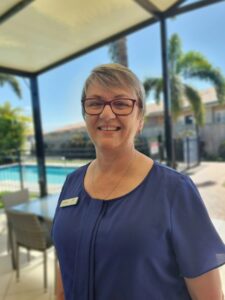 Wendy Hall
Retirement Living Sales & Administration Officer
Wendy is a proud to be a several generation born and bred Redlands lady who can not see herself living anywhere else! Wendy's local knowledge is a real asset being able to direct residents and visitors to the different services and connections in the local community.
Wendy has worked in administration for over 20 years and loves working with people and her experience at Tranquil Waters has been a wonderful experience having been made to feel so welcome by the team and residents.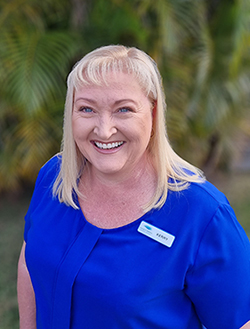 Kerry Fletcher
Retirement Living Administrator
Kerry has loved living and working in the Redlands for most of her life. With a background working in hairdressing, waitressing and managing multiple video stores, she loves having a chat and getting to know people. She has raised her family here and can't think of anywhere she would rather live than the Redlands.
Kerry is perfect in her role as Retirement Living Administrator as she loved meeting and greeting residents, family & friends with her big smile and "Happy-go-lucky attitude". She loves her photography, so don't be surprised if you see her at one of our events running around happily snapping all the festivities.
"The team and residents have been so friendly and have made me feel welcome, and it's just nice to meet nice people."
The Tranquil Retirement Group is a proud member of the Family Business Australian association and LASA.

Experience beachfront living retirement at Tranquil Waters
Speak to our friendly team today to arrange your private inspection